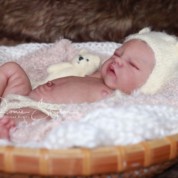 Hazel #9 .  SOLD
Hazel is 5lbs 5 oz and 16″ long, would be 17″ if legs were straight.   LE 10 . She has brown mohair, rooted with the cut end.
Only one baby included.  (sleeper with closed mouth with hair)
She comes with outfits as show, + extras,  + fine knitted   blanket, and gold baby pin, toy and paci.
Included:   One of my Romie's Silica Silk matting powder and brush.
LE Certificate of  Authenticity and care instructions included.