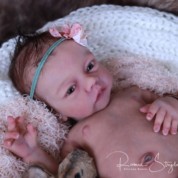 Reese #3 .  Sold.   Platinum full body silicone baby.
7lbs 4 oz, soft silicone,19/20″ long.
She has a fused head. (no ball joint, so no joins) which is very realistic and moves like a real baby and needs to be supported like a real baby.
Reese is soft silicone baby doll, with soft tummy, very poseable and has been released in a very small edition.  She has open mouth and takes a preemie paci.  Her hair is high end mohair, and has been rooted from the cut end, in meduim to dark brown.    She has elbow armatures so its easy to pose her arms beautifully.
She has been painted with soft mottling with veins etc in my own blend of colors which is very realistic and matted to a velvet soft finish.
She comes with extra outfits,  not shown + fine knitted   blanket, and baby's first Miola custom made soft toy,  paci etc.
+ 14k  gold plated  baby bracelet.
Included:   One of my Romie's Silica Silk matting powder and brush.
LE Certificate of  Authenticity and care instructions included.