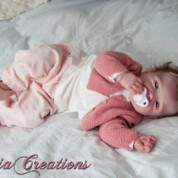 Jola vinyl kit – LE 500
Sculpted by me (Romie) Reborned by Silvia Ezquerra and Sylvia Bush, thank you to both ladies. – Kit available from my dealers
Jola will be aprox 23" when made up.  
She is the open eyed twin to Jade kit.

She has 3/4 arms and full legs, (new arms only) and uses either size 20 or 22 mm eyes, depending on the look you want.

Her edition size is 500 and will include, as usual free cloth body, and LE certificate.