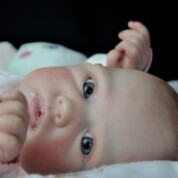 Porsha vinyl kit LE 800 Worldwide.
Porsha makes a 20/21″ doll, with 3/4 arms and full legs and comes with a fully jointed doe suede cloth body and LE Certificate.  She uses size 20 mm eyes.
Prototypes reborned by Selena Saxton, Emma Cousins and Shirley from Sugar Plum Nursery.
This edition is sold out.